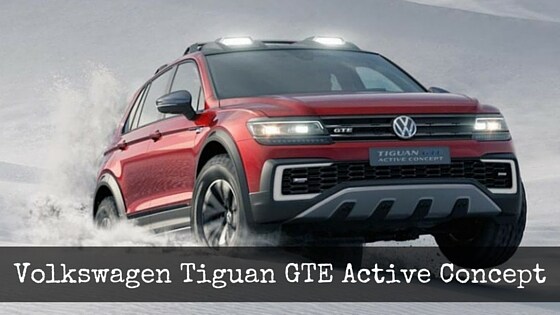 January is the month of auto shows across the world, bringing lots of new technology and models to life every single year. Last year, Volkswagen announced the Tiguan GTE concept. However, this year, Volkswagen brought along a new twist to the Detroit Auto Show with the addition of "Active" to the name, making this possibly the most interesting version of the Tiguan ever presented.
This Tiguan concept, like the GTE introduced last year, is a plug-in hybrid. But, unlike last year, it comes with a kick. Whereas plug-in hybrids typically don't leave the pavement, the GTE Active concept has off-roading capability. The standard Tiguan's ground clearance is 7.1 inches, limiting it to road travel. The GTE Active concept has a ground clearance of 8.9 inches, allowing you to adventure farther than ever before.
A front aluminum skid plate, graphite cladding and integrated roof rails give the GTE Active the capability to tackle off-roading with ease.
The powertrain has been beefed up as well, and a 148-horsepower gasoline engine is combined with two electric motors–a 54-horsepower up front and a 114-horsepower motor to the rear. Working in tandem they make a total of 221 horsepower, which although doesn't sound like much, still gives a respectable 0 to 60 time of 6.4 seconds. It has an all-electric range of 20 miles, and with a full tank of gas can drive up to 580 miles.
The GTE Active drives on electric only and as Rear-Wheel Drive by default, but can be switched to FWD or AWD, depending on driving conditions and drive mode. Six driving modes are available and you can easily switch between them using a rotary dial on the center console. The modes are: On road (Comfort or Eco), Offroad (Rocks, Sludge & Sand or Gravel), Sport, Snow, Charge (battery is charging while driving) and Battery Hold (maintaining a constant battery charge).
On the inside, the 9.1-inch touchscreen supports gestures, which is a first in the Tiguan's class, as well as supports Apple CarPlay and Android Auto.
We hope to see elements of the Tiguan GTE Active concept brought to life in future models of the Tiguan to spice things up and help Volkswagen lovers go above and beyond what was once possible!
Stay tuned to learn more about Volkswagen's concept vehicles and new releases.