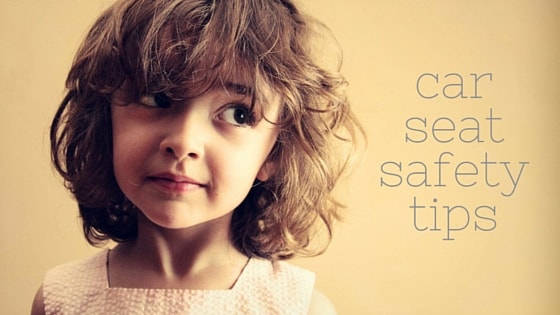 When purchasing a car, safety is almost always at the top of the list of non-negotiables. When you have kids who frequently ride in the vehicle, that item usually becomes #1, beating out technology, looks and even price.
But as safe as your car is, if your child's car seat isn't up to par, your child is still in danger if you get into an accident.
The Facts.
According to SafeKids.org, road injuries are the leading cause of preventable deaths and injuries to children in the United States. When used correctly, child safety seats can reduce the risk of death by as much as 71 percent.
The Tips.
A majority of car seats are not used or installed correctly. Make sure you aren't part of the 73% by checking your child's seat before you get on the road. SafeKids.org has a quick car seat checklist to help you go through the steps and make sure you aren't missing something important when it comes to keeping your child safe. The list includes just five items that you can check on your seat and will only take a few minutes (or less).

Learn how to install your car seat. Safe Kids hosts car seat inspection events across the country during which certified technicians help you learn to install your car seat properly. They take the time to teach you exactly how to use it so that you are keeping your child as safe and he or she can be in the seat. There will be several events in Minnesota during the springtime so you can find one year you. You can find out when Safe Kids is coming to your area here.

Beware of used car seats. Only purchase a car seat from someone else if you know its crash history. This means you should only buy a car seat from someone you know. Don't get one from a thrift store or online. After a car seat has been in a crash or is broken, it needs to be replaced. Don't take a risk. Invest in your child's safety by getting a good seat new or from a trusted friend.

Be a good example. We know that our kids watch everything we do and copy us – whether we want them to or not. Make sure that every time you get in the car, you buckle up and make sure that everyone else in the car does the same. Even if you're just going down the street, it's so important to always take every precaution. The National Highway Traffic Safety Administration has reported that 69 percent of all car accidents occur within a ten-mile radius of home. Fifty two percent of them are within five miles.

Register your car seat. By registering your car seat, you can ensure that you are promptly notified about potential future recalls and guided through the process of repairing or replacing your seat. Do this by registering online with your car manufacturer with the information found on the information sticker on your car seat. Then, fill out the registration card that came with your car seat. It already has the seat's information on it and requires no postage, so all you have to do is fill in a little information and mail it. Find the registration link here.
For added protection for your family while on the road, Volkswagen has several 2016 models to offer that have won top safety awards: Golf, GTI, Jetta and Passat.
Volkswagen is proud to have four of its models named 2016 IIHS Top Safety Pick+ winners. These vehicles earned good ratings (the highest category) in the five crashworthiness tests and also an advanced or superior rating for front crash prevention (when equipped with front crash prevention technology).
Models that earn these titles are well-known to be the best choices on the road for safety within their categories.
If you're interested in checking out these models, you can browse our inventory online and then come see them in person to take a test drive and learn more about what Volkswagen has to offer with the help of one of our friendly, knowledgeable sales professionals. Schedule a test drive or contact us here.